ADVERTISEMENT
One Skillet Savory Beef Tips and Gravy combines beef tenderloin, mushrooms, onions and garlic in a rich creamy gravy that is lightly seasoned. It is quick to prepare and mouthwatering delicious. It is amazing served over Amish Country extra wide home style noodles. If you prefer mashed potatoes that is delicious as well. Have you tried any of my other savory dishes? Savory Sweet Swedish Meatballs, Beef Stroganoff and Bacon Asparagus Cajun Pasta are just a few of my favorites. One Skillet Savory Beef Tips and Gravy is the ultimate in comfort food and is geared a little more towards fall although it is awesome anytime of the year. There is just something amazing about comfort food recipes even if it is a while before we cool back down again.
INGREDIENTS
3 tablespoons butter
1/2 lb sliced crimini mushrooms
1/2 cup finely chopped onion
2 large cloves garlic minced
1 lb beef tenderloin or good quality beef steak ( I use petite shoulder) cut in bite size strips
2 tablespoons flour
1/4 teaspoon salt
1/4 teaspoon fresh ground pepper
2 tablespoon olive oil
1/3 cup good quality red wine
1 (14 ounce) can low sodium beef broth
2 tablespoons Worcestershire Sauce
1/4 cup flour (I like to use Wondra flour)
Salt & Pepper to taste
INSTRUCTIONS
Add butter to large skillet over medium high heat. When melted toss in mushrooms and cook until light golden brown; approximately 8 minutes. Add onions and continue cooking for 2-3 minutes or until onions start to soften and mushrooms turn golden brown. Reduce heat to low and add garlic; cook for 30 seconds. Remove from pan and plate.
In large ziploc bag add flour, steak bites, salt and pepper. Shake to coat. Add olive oil to skillet over medium high heat. Add steak and cook just until browned. Remove to plate.
Add red wine to skillet and deglaze the pan; scraping up the brown bits from the bottom. Pour 1/2 cup of beef broth in bowl and set aside. Add REMAINING beef broth and Worcestershire Sauce. Simmer for 5 minutes; stirring a couple of times.
In small bowl whisk together beef broth and 1/4 cup flour. Whisk flour mixture into skillet with beef broth mixture. Cook until slightly thickened; approximately 2 minutes. Add mushroom mixture and beef back to pan; simmer for 5-10 minutes. Salt & pepper to taste. Serve over egg noodles, rice or mashed potatoes.One Skillet Savory Beef Tips and Gravy0 seconds of 1 minute, 4 secondsVolume 90%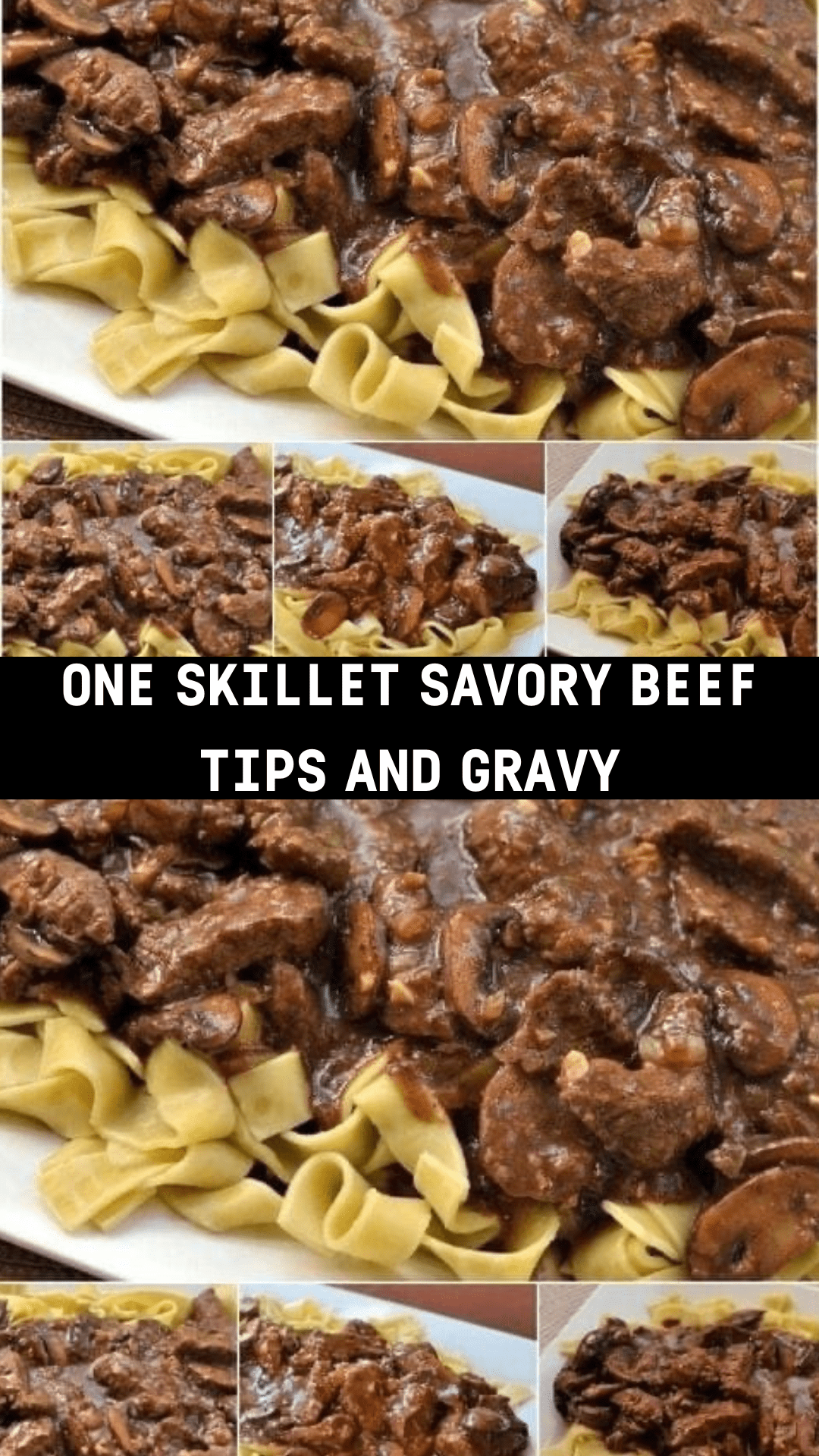 Remember It Later
This recipe! Pin it to your favorite board NOW!
Pin