ADVERTISEMENT
The best Toffee recipe EVER! Sweet milk chocolate, crunchy pecans, and rich, buttery toffee – what's not to love? This Better Than Anything Toffee is easy to make and makes the perfect treat OR gift year-round! Looking for more holiday treats? Make sure to try my Buttermilk Pecan Pralines, Candied Pecans and Divinity!
The holiday season marks my favorite time of year. If you hadn't guessed already, I'm a leeetle obsessed with food. Making good food for my friends and family is my happy place. One of my favorite things to do during the holiday season is make candy. I have a TON of candy recipes on my site. Some are super easy using only the microwave and a handful of ingredients like these M&Ms Marshmallow Dream Bars while others are more challenging but worth every second like these Buttermilk Pecan Pralines.
I have my personal favorites that never fail to make an appearance each holiday season and this Better Than Anything Toffee recipe is one of those.
Ingredients
1 cup coarsely chopped pecans
1 cup unsalted butter
1 cup granulated sugar
½ teaspoon kosher salt
1 teaspoon vanilla extract
1 cup milk chocolate chips
Instructions
Spray a 9-inch square baking dish with cooking spray and line with parchment paper.
Spread the chopped pecans in a single layer on top of the parchment.
1 cup coarsely chopped pecans
Add butter, sugar, and salt to a heavy bottomed 3 quart pot.
1 cup unsalted butter,1 cup granulated sugar,½ teaspoon kosher salt
Bring to a boil over medium low heat, stirring frequently to dissolve the sugar.
Once the candy is boiling, stir occasionally, slowly and evenly, until the candy has reached 290°F to 300°F, or "hard crack" on a candy thermometer.
Once the candy has reached 290°F-300°F, remove from heat and gently stir in the vanilla extract.
1 teaspoon vanilla extract
Carefully pour the mixture over the chopped pecans.
Let the candy sit for a few minutes, undisturbed, before sprinkling the chocolate chips over the top.
1 cup milk chocolate chips
Cover the baking dish with foil and let sit for 5 minutes or until the chocolate has softened.
Remove the foil and gently spread the softened chocolate into an even layer. An offset spatula works best for this.
Place the candy in the refrigerator and let cool completely. Give it at least 2 hours.
Lift the parchment out of the baking dish and place the toffee on a cutting board or solid surface.
Use a knife to gently break it into smaller pieces. Store in an airtight container in a cool place.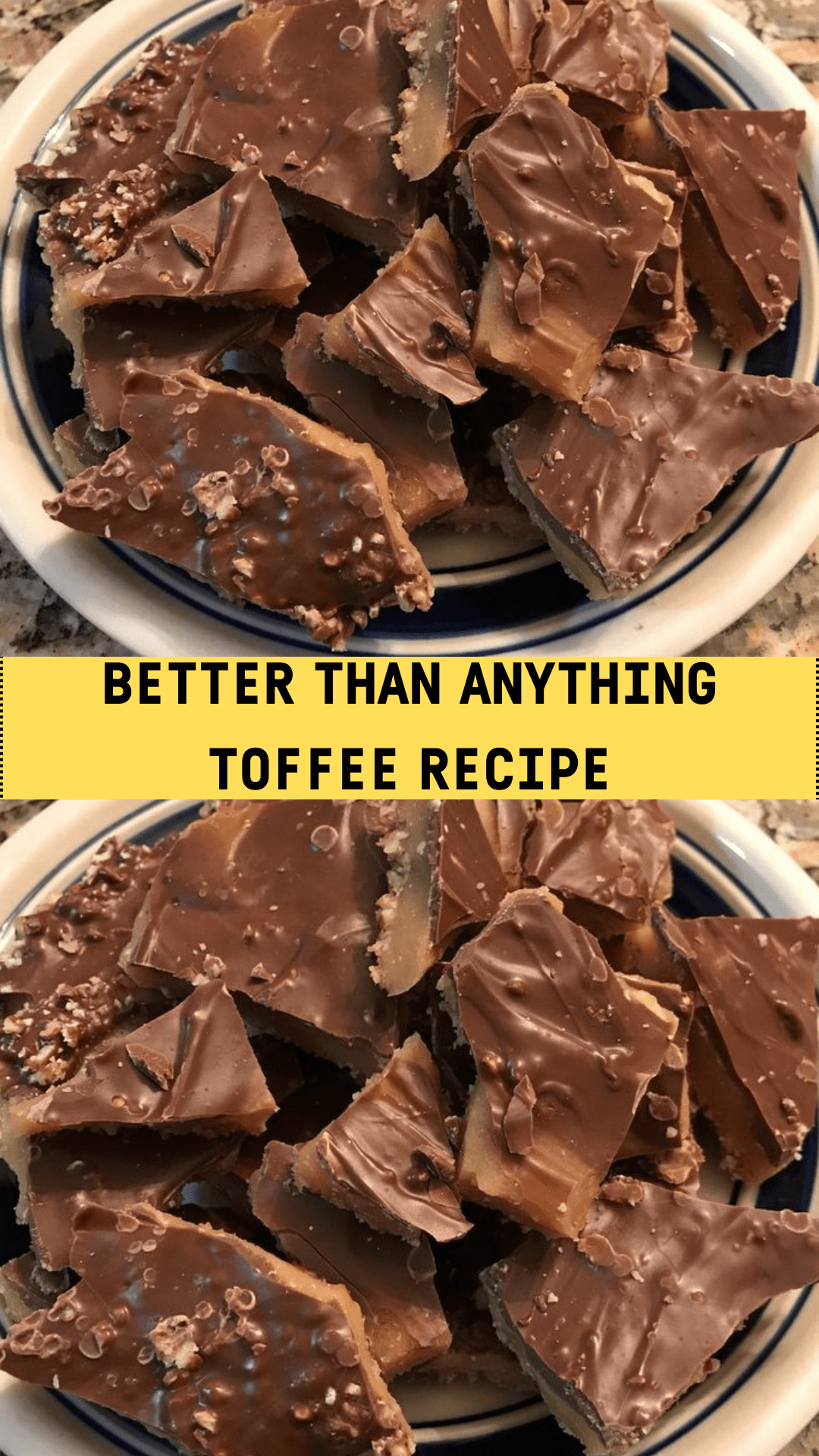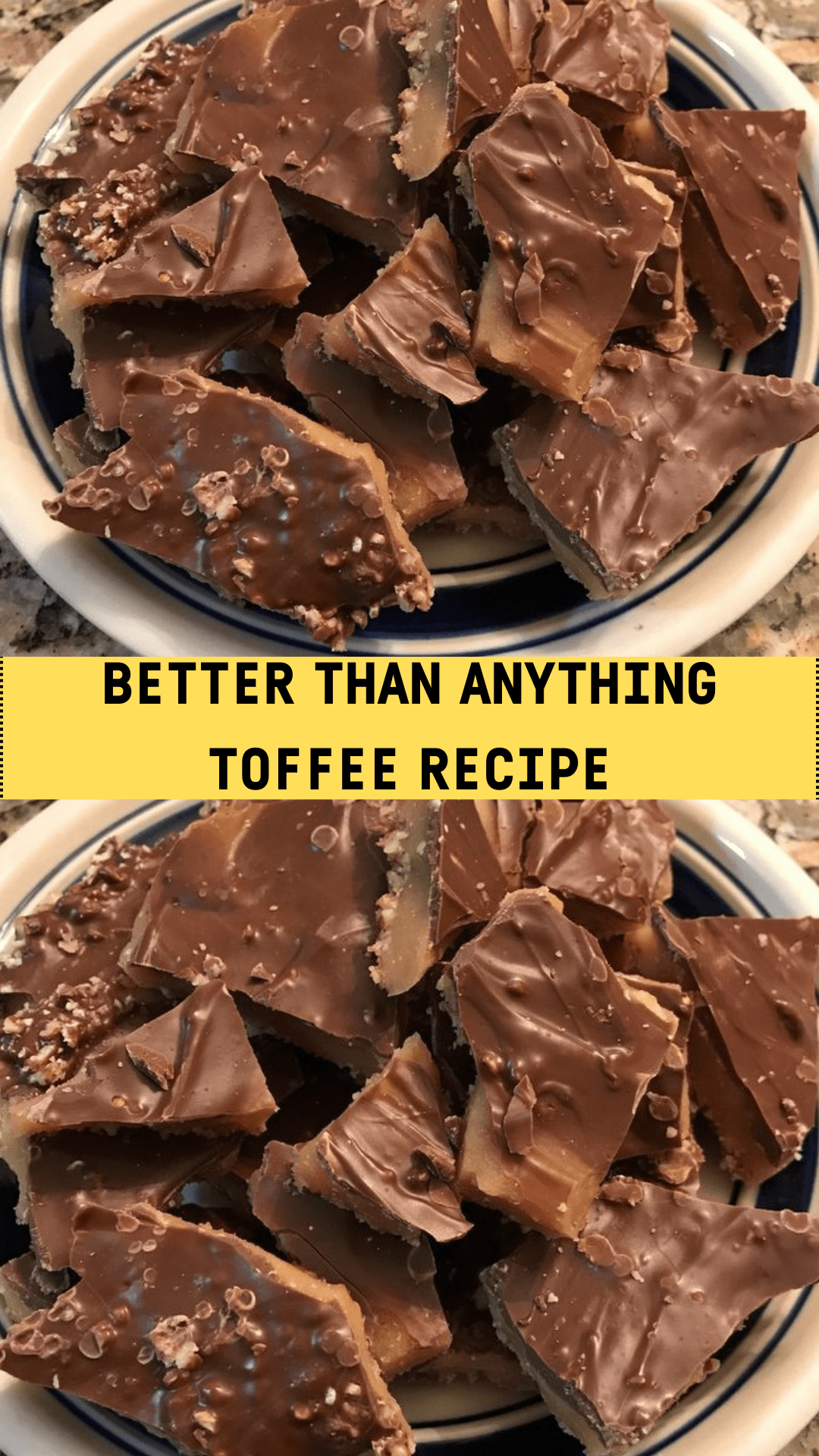 Remember It Later
This recipe! Pin it to your favorite board NOW!
Pin